Specialized Stumpjumper ST Expert 29 Fully MTB 2019
- 21 %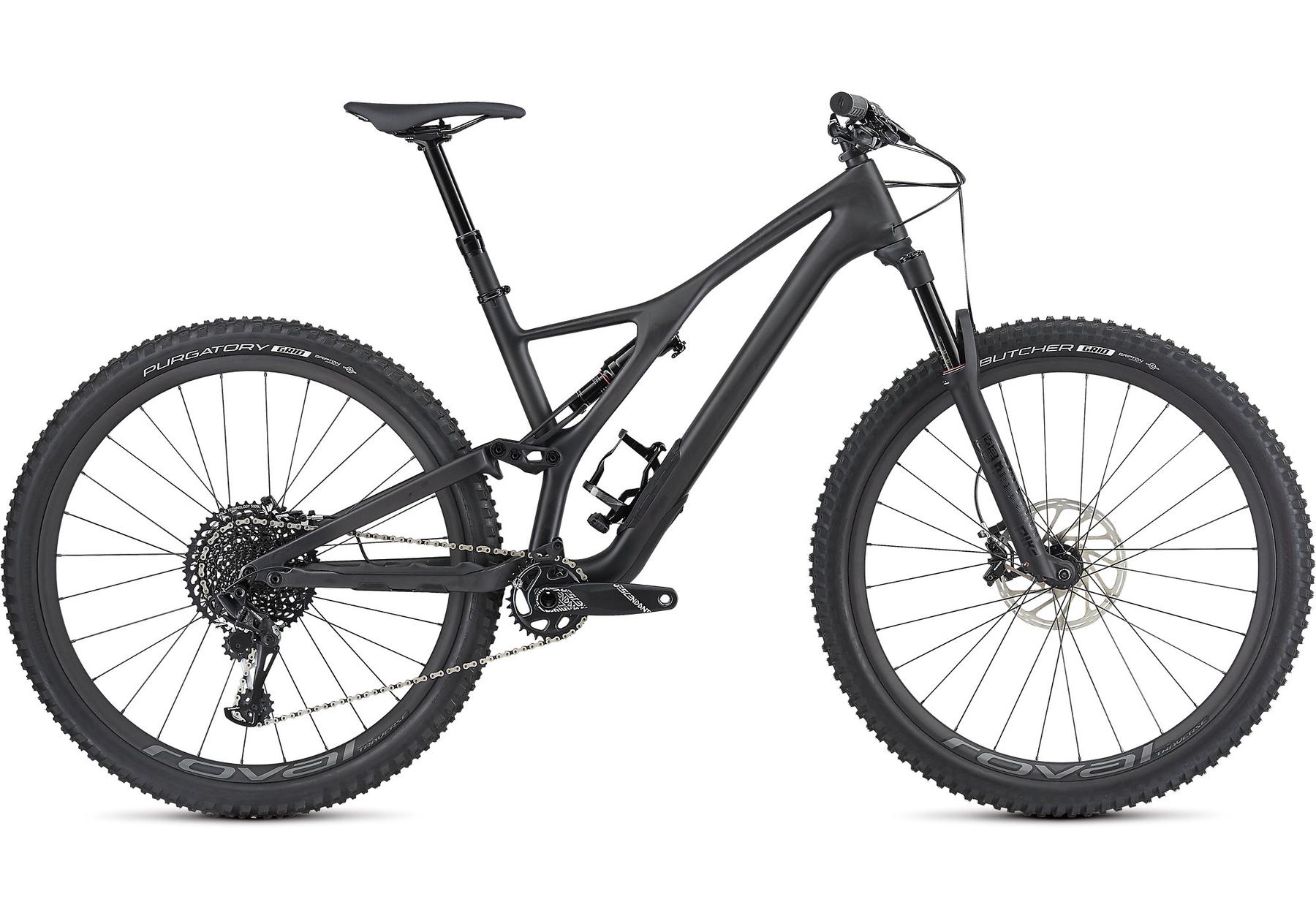 14 Tage Rückgaberecht
Montiert und geprüft
Versandkostenfrei *
0% Finanzierung
z.B. 36 x 124.97 EUR
EUR
4.499,00 *
5.699,00 €
*

Reservierung oder Abholung in Filiale:
Spezifikation
Rahmen

FACT 11m, full carbon chassis and rear end, asymmetrical design, 29 Trail Geometry, SWAT™ Door integration, threaded BB, fully enclosed internal cable routing, 12x148mm dropouts, sealed cartridge bearing pivots, replaceable derailleur hanger, 120mm of travel

Gabel

RockShox Pike RC, DebonAir, rebound / low-speed compression adjust, tapered steerer, 51mm offset, 15mm Maxle® Stealth thru-axle, 15x110mm Boost™, 130mm of travel

Dämpfer

RockShox Deluxe RT3, Rx Trail Tune, rebound & 3-position compression adjust, 190x42.5mm

Kurbel

Truvativ Descendant, aluminum, Boost™ 148, 170mm crankarm, 24mm spindle

Lenker

Specialized Trail, 7050 alloy, 8-degree backsweep, 6-degree upsweep, 27mm rise, 780mm, 31.8mm clamp

Vorbau

Specialized Trail, forged alloy, 4-bolt, 5mm rise

Hebel

SRAM GX Eagle, trigger, 12-speed

Schaltwerk

SRAM GX Eagle, 12-speed

Kette

SRAM GX Eagle, 12-speed

Kassette

SRAM GX Eagle, 12-speed, 10-50t

Sattelstütze

Command Post IRcc, 16-position micro-height adjustable, two-bolt head, bottom mount cable routing, remote SRL lever, 34.9mm, S: 130mm, M/L/XL: 160mm of travel

Sattel

Body Geometry Phenom Comp, Adaptive Edge design, hollow Cr-Mo rails, 143mm

Pedale

Specialized Dirt
Specialized Stumpjumper ST Expert 29 Fully MTB 2019
Trail bikes can't usually 'shred the gnarly stuff' and 'climb with your XC buddies,' but we're confident in saying that the Stumpjumper Expert ST 29 is totally capable of both. It combines precise handling, perfect suspension kinematics, and a complete abandon of proprietary nonsense with a slightly steeper geometry, less travel (130mm front/120mm rear), and 29-inch wheels to make it a true 'do-it-all' trail bike.
Our design goal for the new Stumpjumper was simple—build the ultimate trail bike, one that feels telepathic. And it turns out that this feeling all comes down to stiffness. Think of it this way: when the frame's telling your hands one thing and your feet another, your brain gets confused with the imbalance and the bike feels unstable. In order to fix this, we had to get to work on dialing-in the materials, shapes, and the layout.
We started by creating our own mountain-specific stiffness test, and then we looked at the layout with Finite Element Analysis (FEA) to see where we could get the biggest stiffness improvements. This led to a big discovery: The Large and X-Large frames needed more front-end stiffness while the Smalls and Mediums were just fine. We were able to create a frame design that was 20% more efficient. And in the end, this proved to be one of the lightest trail frames on the market, today.
When designing the frame with the stiffness targets being a main goal, we developed a radical new sidearm design. The front-end and rear-end are connected at three points, and the sidearm helps keep all these points super stiff and connected, all while taking about 100 grams out of the rear-end. More explicitly, this minimizes frame flex when the rear suspension is active.
We continued down the suspension path with a custom Rx Trail Tune on both the fork and rear shock. Suspension performance is highly dependent on frame, wheel, and rider size, so we use our Rx Tune to get each bike to land in the middle of the adjustment spectrum, and this gives you the biggest possible range to fine-tune your ride. Another focal point of the tune was matching the suspension characteristics between wheel sizes—we developed a specific Rx Tune for each platform. So, no matter what wheel size you prefer, you'll get perfectly linear suspension.
Steps were also taken to make this bike easy to live with. Threaded bottom brackets make a triumphant return, and we made room for up to a 3.0' tire. You're also free to run whatever aftermarket rear shock you want, since we're using standard metric shocks. We revamped the SWAT™ box, too, making it sleeker, lighter, and with more volume. And customization is furthered with a Flip Chip that lets you to dial-in your Stumpy to your riding style. Switch it from High to Low and it drops your bottom bracket 6mm and slackens the head tube by half-a-degree. Little details also jump out to surprise you, like a newly designed ribbed chainstay protector that makes chain slap a thing of the past and nearly silences the drivetrain. Lastly, we seriously couldn't make cable routing any easier on carbon models. Full tubes can be found throughout the carbon frame, so all you have to do is push the cable and it'll come out the other end. No more lazy loop, hidden stashes of magnets, pokey spokes, or pillows to cry in.
For the build, you get a solid components package with a full SRAM GX1 Eagle drivetrain, SRAM Guide R disc brakes, RockShox Pike RC fork and a Deluxe RT3 rear shock (130/120mm of travel respectively), and Roval Traverse Carbon 29 wheels.
Die asymmetrische FACT 11m Kohlefaserkonstruktion des Stumpjumper ST ist leicht, steif und bereit für technische Anstiege und ruppige Abfahrten. Konstruiert mit unserer 29er Trail Geometrie, bietet es genau das richtig Verhältnis aus Performance und Komfort. Und mit der SWAT™ Box im Unterrohr, einem BSA Tretlager, einer kinderleichtern Kabelführung und einem komplett neuen Kettenschlagschutz ist es für alles gerüstet, was Trail oder Fahrer vom Bike fordern.
Mit drei verschiedenen Druckstufen Einstellungen – "Open", Pedal" und "Lock" - unglaublicher Dämpfungsleistung und unserem Rx Trail Tune ergänzt der RockShox Deluxe RT3 den Stumpjumper perfekt.
Die RockShox Pike ist bekannt für ihre Trail-Performance – die hier verbaute RC Version hat enorm steife Standrohre, einen Charger-Dämpfereinheit und unglaubliches Feingefühl.
*
Unverb. Preisempf.
inkl. MwSt. zzgl. Versandkosten: 0,00 EUR (innerhalb Deutschlands). Ausland siehe
Versandkosten
Kunden schauten sich auch an: